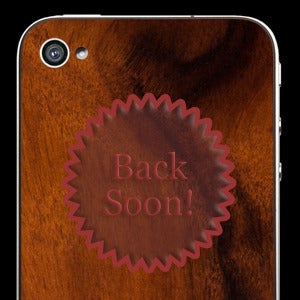 South American Rosewood -
$

69.00

South American Rosewood is a richly hued dark hardwood cultivated predominantly in Brazil whose name is derived from the long-lasting sweet smell its wood retains. The timber itself is relatively straight-grained and brownish with darker veining throughout. Rosewood is the material of choice for many ornate items such as guitars, chess sets, billiard cues and fine furniture. The variety we employ in our iPhone 4/4S backs is flat-cut, producing a grain pattern that varies between slightly wavy with unique curling patterns found sporadically throughout, and relatively straight-grained. After sanding and finishing, South American Rosewood is smooth with moderate apparent grain, offering a surface that will not fingerprint while still offering superior durability and feel.

Comes with one complete pre-assembled iPhone 4/4S replacement back, illustrated instruction guide, Pentalobe screwdriver, #00 Phillips-head screwdriver (if needed) and screen protector.